Experiencing
Flexibility for your GROHE SPA® F-Digital
Personalize the Experience
Precise control, the perfect temperature and the luxury of saving your preferred settings with a single touch; GROHE F-digital will change your perception of faucets and showers.
Design and Planning Freedom
GROHE F-digital offers maximum design and planning freedom; with wireless technology and a full range of coordinating products for the shower, bathtub, basin and bidet, you can plan your bathroom exactly as you wish.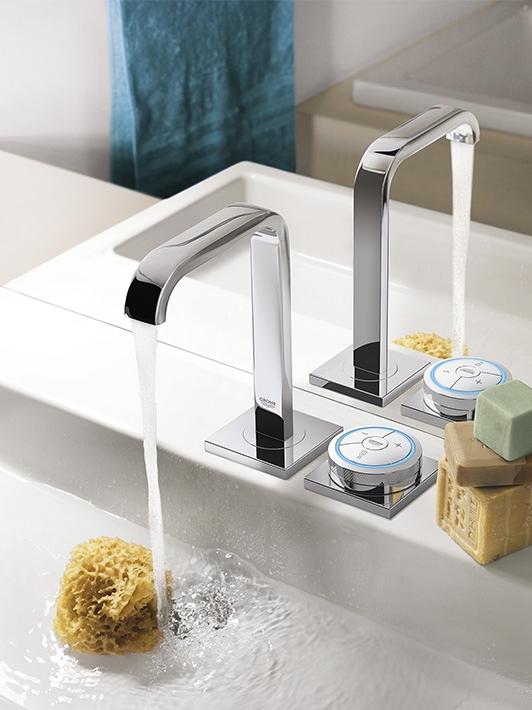 Enjoy flexibility: Basin solutions
Throughout the day, the Digital Controller brings the convenience of one-touch operation to the basin. Wireless control, right on the button.
For all styles of basin
Wall-mounted and deck-mounted basin spouts have been designed to accommodate all styles and sizes of basin.
Convenient operation
As the spout and the mixing unit are digitally connected, the Digital Controller can be positioned anywhere around the basin: on the wall, on the ceramic or on the countertop.
Digital sustainablility
Time after water flow stops automatically can be adjusted to fit your personal needs and save water.
Enjoy flexibility: Bathtub solutions
From a single freestanding bath spout to integrated solutions featuring a hand shower, bath spout and filler, the Digital Controller and Digital Diverter introduce a new level of luxury to the bathroom and enhance your bathing enjoyment.
Automatic bath filling
A true GROHE SPA® detail; the automatic bath filling feature will fill the bath for you to your pre-set temperature and water level.
Fill the bathtub twice as fast
For large bathtubs, combine a bath spout with a bath filler. The Digital Diverter allows you to open both outlets at the same time, so the bath can be filled faster.
Save your preferred setting
Experience comfort like never before. Use the memory function to save your individual combination of water temperature and flow.
Experience GROHE F-digital
Uniting simple operation with the latest wireless technology, both the Digital Controller and Digital Diverter can be fixed in any position that is most convenient for you: on the wall, on the edge of the bathtub or basin, even on a glass shower screen.
Test the digital technology!
GROHE offers a wide choice of coordinated showers and bath accessories.